Throughout Al's youtube career, he has met and played with subscribers and other youtubers that he sometimes makes videos with.
Al is part of the Period Production Team which he is a Cinematographer and Writer.
Al was part of the Dreamers With Attitude, D.W.A for short. They had teamed up together to play games and have fun while later on making a minecraft server but things went sour between some members and the group eventually dispersed. DWA had an interview from Gacha Vega on 13th May 2012
The members were:-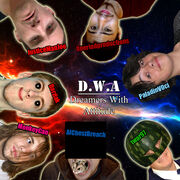 Justicemanjoe: His appearance-wise in Al's videos; started in Minecraft, Payday the Heist, and Dead Island. Joe was the goofy but serious on important matters.
Twar97: He appeared in Al's videos such as Minecraft or Dead Island. In video appearances depicting his face, Twar is revealed to be a small black and white cat, almost always found on the shoulder of an unknown young adult male. Twar owned the server that the D.W.A usually played in on their adventures and shoots for videos.
George/Vyper08: A member of Zero Period Productions. Back in October he uploaded an interview with Al and Voci, revealing Al's real face to many of his viewers. He's a friend of Al and has appeared in his City Shorts, Minecraft Online, and some Xbox Live Let's Plays.
PaladinV0ci: Appearing on Rex's funeral and usually saving the day, he was mainly the one who invited together everyone in Skype.
Darziak: Was the only member who doesn't live in the US, he sometimes suggested ideas to Al and made mod's for him.
Monkeycan8: Was invited to the group one day and starred in many adventures.
Bryce: Was part of the original DWA but things went sour over the first minecraft server and was booted out by some of the DWA members.
Arby249: Was invited into the DWA by Twar but never heard his voice and was rarely around.