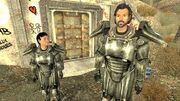 PaladinV0ci is a Youtube user who reviews Fallout mods, as well as his series Adventures of PaladinV0ci, in which he plays an inept initiate-turned-paladin who everyone in the Brotherhood of Steel hates. He and Al often appear in each others videos. He plays many games with Al, including Arma 2 and Doom 3. He is the first member of the Dream team.
V0ci in Al's videos
V0ci has appeared more than once in Al's videos, namely Rex's Funeral. In it, V0ci reanimated Rex shortly after the funeral. After this appearance, V0ci was mentioned by Al several times in his reviews. When companions died, Al would always ask where V0ci was in order to revive the fallen companion.
Al in V0ci's videos
Al appears in Adventures of Paladin V0ci as the voice of Elder Nolan, the commander of the bunker which V0ci is a part of. Al also sings the theme song for the series.
Trivia